Gallery
Publications
Thematic
Interesting
Exhibitions
Luxembourg
29-08-08 12:00:00 AM
" Luxembourg out of the Cretan glance"
St George Gate 2- 12 October 2005
Poster of the Exhibition
Photographs from the Exhibition there are in Thematic and category Luxembourg
The opening of the photographic exhibition of Manolis Papadakis with the subject "Luxembourg" took place on the fifth of October of 2005 at St George Gate by "Friends of Luxembourg in Crete".
The exhibition was opened by the late President of European Union Mr. Jacques Santer.
Apart from Mr. Jacques Santer, among the people who visited the exhibition were: the President of the Society for the friends of Crete, Mr Edouard Walter from Luxembourg, the Luxembourg's ambassador Mr Conrad Bruch, the greek ambassador members of the Society "Friends of Luxembourg in Crete" and many Cretan people.
There were 65 long sized pictures in the exhibition, and all of them had as a theme the country of Luxembourg and the visits of the photographer in that place.

Out of the photographer's speech at the openings.
Today, where the picture exists everywhere and is a quick and efficient mean of communication, I feel very happy indeed that I can communicate with this silent and international language of the art photography, helping the friendship and the communication of the two countries.
For the reason that the art photography means for me a mean of expression, creation and communication, I need to keep for ever with me with the help of my photographic lens, events and pictures that are emotional for me.
All my photographic work with Luxembourg as a subject, which took place during student's exchanges and from which there is a part in this exhibition, took place with love and good intention during my three visits in the small country, walking long distances of a place which I loved its history, its architecture, its nature and its people.
During that time, there was a nice weather for most of the time, that helped historic and modern buildings with an excellent architecture and the beautiful nature of Luxembourg, to be revealed.
Unfortunately, there are no winter themes, a photographic subject especially dear to me, which is popular for a dramatic art photography, because I have never been in Luxembourg on winter time.
The choice of pictures for this exhibition was a difficult composition because the picture needed to be simple, showing the country's identity and to have at the same time an artistic dimension and originality.
Manolis Papadakis EFIAP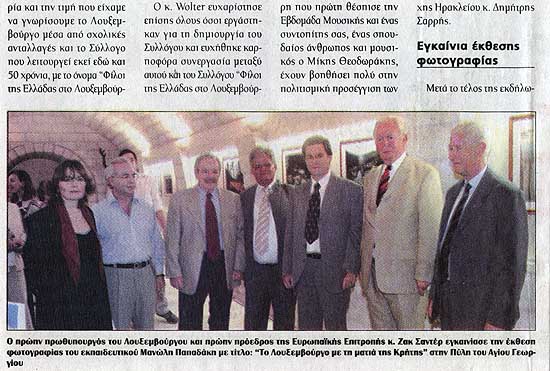 Newspaper "ΠΑΤΡΙΣ" 06-10-05
Newspaper "La Voix" 03-11-05
Mr. N. Matzapetakis, Mr P. Bikakis, Mr M. Papadakis, Mr Jacques. Santer, Mr Edouard Wolter
Opening day, Mr Jaques Santer and photographer Mr Manolis Papadakis